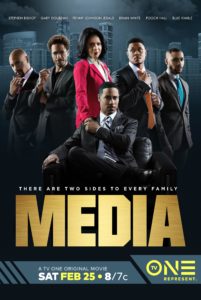 TV One continues its expansion into the TV movie arena with the premiere of MEDIA, their original made for TV movie. MEDIA airs Saturday, February 25, 8p.m. ET on cable's TV One.
Executive produced by Radio One founder and chairperson, Cathy Hughes, Susan Banks, Kevin Arkadie and Sheila Ducksworth, MEDIA is an urban drama that takes place in Atlanta. It tells the story of media mogul and family matriarch Jackie Jones, played by Penny Johnson Jerald (Castle, 24), her empire – its struggles, and her children, Clay Jones (Pooch Hall – The Game, Ray Donovan), Michael Jones (Brian White – Scandal, Chicago, Stomp The Yard) and Anthony (Blue Kimble – Devious Maids, Fast Five), and Crystal Jones (Chrystee Pharris – Passions, Scrubs).
MEDIA's story is loosely based on Cathy Hughes' urban media empire and centers on middle son Michael, a lawyer who is asked to take over the leadership of JUMP (Jones Universal Media Properties) after the eldest son Clay is murdered.
Michael White was impressed with the movie's script. He said, "When I read this script, and I saw Mrs. Jones acting
like Marlon Brando in the Godfather, I said, 'You know what?' I have to be a part of this, and support this and the world needs to see that this, these type of people, these type of women really exist. And they're prevalent. They need to be talked about …and celebrated."
Gary Dourdin (CSI: Crime Scene Investigation, Jumping The Broom, Love Under New Management: The Miki Howard Story) stars as Jabbar Randolph, the arch enemy of the Jones' recently released from prison and head of their closest rival urban media competitor, on a mission to take control of JUMP over what he sees as a past wrongdoing the Jones' inflicted upon him and his business, even if it means resorting to crime and joining forces with questionable criminal alliances.
Stephen Bishop (Being Mary Jane, Battleship, Moneyball), plays Will Randolph, the younger brother of Jabbar Randolph who is conflicted between trying to do the right thing and staying loyal to his brother. Will also has a big secret.
Rounding out the cast of MEDIA is Finesse Mitchell (Roadies, SNL, Brothers in Atlanta); Denise Boutte (Meet the Browns, For the Love of Ruth); Jimmy Gonzales (Taken 3, Sin City: A Dame to Kill For); Stelio Savante (The Making of the Mob: New York, Ugly Betty); Jillian Reeves de Ortiz (Let's Talk, The 12th Night); Jasmine Kaur, and Diane Kirby (Returned).
MEDIA was produced for TV One by Ducksworth Productions, written by Kevin Arkadie (New York Undercover) and directed by Craig Ross, Jr.
The passionate MEDIA delivers powerful insight into the world of a successful family run urban multi-media company, the family that owns it and the lengths the Jones' will go through to protect the family business and each other. It is full of scandal, lies, a detrimental losses, betrayal, scandal, redemption and forgiveness. What shines forth above all is that the love of family trumps everything else. Tune in and catch all the drama on TV One #Represent.
Click to listen to audio clips of actors from the movie MEDIA.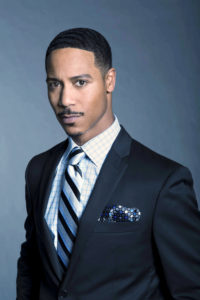 Audio: Brian White, Michael Jones in MEDIA,  tells What made him join the cast.