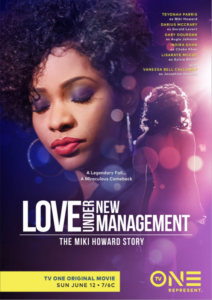 TV One's Love Under New Management:  The Miki Howard Story airs Sunday, June 12 at 7 and 9 p.m. and Wednesday, June 15 at 9 and 11p.m. ET.
Directed by Christine Swanson, the Swirl Films production is TV One's first original full length feature-biopic inspired by the network's hit series Unsung.
Love Under New Management: The Miki Howard Story is the brain child and  labor of love for TV One Senior Vice President of Original Programming, D'Angela Proctor. "Miki's (Unsung) story was one of the strongest…it had redemption, it had drama…it undoubtedly had laughter…it had all the makings of a great movie so that's why we did it…Miki went from being a homeless teenager to true R&B royalty," said Proctor.
Teyonah Parris (Chi-Raq, Survivor's Remorse, Mad Men) stars in the lead role as Miki Howard. On playing Miki, Parris said, "It's such an inspiration, and I hope that's what people get from this film…If you can go through hell and back and then back to hell again…you watch her overcome it and work through it…and for me even playing that role, it has been life changing."
Love Under New Management: The Miki Howard Story reveals how one can succeed if they are strong in their faith and determined. Miki said, "It's about God's message…I just feel like God has a message…I know he has a message because this is not me…this is all God."
The stellar cast also includes Darius McCrary (The Leftovers, Family Matters) as Gerald Levert – the love of Miki's life; Vanessa Bell Calloway (Shameless, To Hell and Back) as Miki's mother Josephine Howard (The Caravans – gospel pioneer group); Gary Dourdan (CSI, Being Mary Jane) as Augie Johnson; LisaRaye McCoy (Single Ladies, All of Us) as Sylvia Rhone; and Amari Cheatom (Django Unchained, Night Catches Us) as Miki's ex-husband, Eddie Phelps.
Filmed in Savannah, GA, Love Under New Management: The Miki Howard Story follows Miki's life from her days as a girl being raised in a dysfunctional, turbulent home by a bi-polar mother in Los Angeles to a young woman on her own in the streets of LA ,to a young single mother, to her success in the music business, her decline and back again. Being presented during June, Black Music Month, the movie features Miki's R&B hits, including "Ain't Nobody Like You," "That's What Love Is,"a duet with Gerald Levert, "Georgy Porgy," "Come Share My Love" and her Top 10 hit single and title of the movie, "Love Under New Management."
For more information about TV One's upcoming programming, including its Black Music Month line-up, visit www.tvone.tv. TV One viewers can join the conversation by connecting via social media on Twitter, Instagram, and Facebook (@tvonetv) using the hashtag #RepresentBlackMusic, and also catch clips and promos on TV One's YouTube Channel.