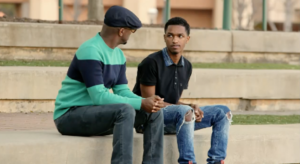 An all new episode of  Rickey Smiley For Real airs tonight on TV One at 8pm ET.  Single dad Rickey sits down man-to-man with Craig for the first time since the teen ran away. Can Rickey and Craig patch things up or will Rickey decide to cut ties with his nephew? 
In preparation for her first fashion show for her new clothing line, Juicy goes to Gary and the radio team for help. Watch what happens when Juicy, Gary, and the team audition runway models.
Meanwhile, love is in the air as

Brandon and Beonka begin to work on reestablishing their relationship.

 D'Essence and Aaryn seek Gary's assistance with a makeover for Ms. Pat prior to her big blind date. Was it a love connection?
Tune in tonight to Rickey Smiley For Real and get your laugh on.