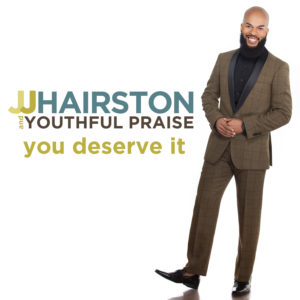 JJ Hairston & Youthful Praise scored number one on Billboard's Gospel Airplay, Gospel Digital Songs and Hot Singles charts with "You Deserve It."
You Deserve It the album also earned the #1 spot on the iTunes Gospel Album chart. The hit ballad is on Hairston's own label that he started in 2016, Jamestown Music. The album is destined to be one of Hairston's strongest debuts to date. Additionally, the single "You Deserve It" is Hairston's first song to reach number one on the Gospel radio chart.
Hairston said, "We are ecstatic about the response to this song and to this project. The people, the Gospel music fans, the worshippers, they all made this happen, and we are grateful for the support."
JJ Hairston and Youthful Praise's "You Deserve It" is nominated for a 2017 Stellar Gospel Music Award for Song of the Year and Urban/Inspirational Single or Performance of the Year ("You Deserve It").
Adding to the excitement around this big hit for the ensemble from Connecticut, JJ Hairston and Youthful Praise will tape a performance at The Stellar Gospel Music Awards on March 25 at The Orleans in Las Vegas.
JJ Hairston and Youthful Praise is currently making rounds at media. They have been interviewed on national radio and TV shows, including The Rickey Smiley Show, The Tom Joyner Morning Show, TV One's NewsOne Now, The Willie Moore, Jr. Show and SiriusXM.