Vanessa Bell Calloway stars and makes her directorial debut tonight on Bounce TV's hit series Saints & Sinners at 9p.m. ET.
Calloway portrays Mayor Ella Johnson of Cypress, GA, a town just outside of Atlanta that has been rocked by scandal, deceit, affairs and murder. One of the bodies was found on the grounds of Greater Hope Baptist Church, the town's epicenter. In this week's episode, the mayor and local gangster Rex Fisher's (Clifton Powell) past is revealed to Kendrick Murphy (Tray Chaney) and Christie Johnson (Jasmine Burke). Also, Miles Calloway (Keith Robinson) and Christie Johnson suffer a personal loss.
Saints & Sinners stars Vanessa Bell Calloway, Clifton Powell, Christian Keyes, J.D. Williams, Jasmine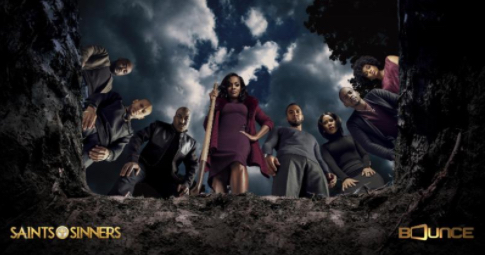 Burke and Keith Robinson. Joining the core cast this season are Tray Chaney (The Wire), Demetria McKinney (House of Payne) and Karlie Redd (Love & Hip Hop Atlanta).
Saints & Sinners airs Sundays at 9p.m. on Bounce TV.