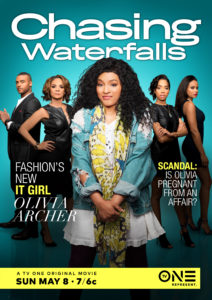 TV One premiere's faith-based movie, Chasing Waterfalls tonight at 7p.m. ET. A contemporary telling of the biblical story of David, the film features Drew Sidora (The Game Sister Code), Jasmine Guy, Tim Reid, Joyful Drake (Let's Stay Together, Jane the Virgin), Kisa Williams (Precious), Daniel May (Being Mary Jane) and Redaric Williams (Young and The Restless). Grammy nominated recording artist Kelly Price makes a guest appearance in the film.
Sidora, in her first leading role, plays Olivia Archer, a woman of faith and an aspiring fashion designer working in the production room of a once successful fashion house run by Salma Barrie (Jasmine Guy). Olivia is anchored by her faith and family but challenged by her humble circumstances and family issues. Tim Reid plays Olivia's ailing father Quincy. Kisa Williams is her frustrated sister Coco living with her own set of demons. Chasing Waterfalls follows Olivia on her journey as she rises in the tough fashion industry, falls from grace and returns to her foundation of faith and family.
"I was honored to play Olivia. And stepping into her shoes, I truly felt a connection with her….she's extremely passionate, very determined for wanting to become a fashion designer. And she did not have a lot of money and she lived a very humble lifestyle, but she has a great foundation in God. And her family has supported her and shown her so much love," said Sidora.
Journalist turned screenwriter Rhonda Baraka wrote Chasing Waterfalls. She says, "The thing that I really love about these stories and working with TV One on them is that we have an opportunity to present Bible inspired stories and bible inspired messages of redemption and faith."
Chasing Waterfalls, an original TV One movie, was directed by Ryan Richmond. Swirl Film's Eric Tomosunas served as executive producer. It was produced by James Seppelfrick, Keith Neal, Gingi Rochelle and Allison Wilmarth Kovak. TV One's Karen Peterkin served as executive-in-charge of production.
Peterkin says of the film and TV One's production of faith based projects,"This is the third in a series of bible based stories. The first being the story of Ruth, "For The Love Of Ruth. And To Hell and Back, which was based on the book of Job. This particular story Chasing Waterfalls is based on the story of David. It is the story of a young woman who…she finds her success…becomes very successful at it…hurts some people along the way, makes a few bad choices, and in the end she is redeemed."
TV One viewers can join the conversation by connecting via social media on Twitter, Instagram and Facebook(@tvonetv) using the hash tag #ChasingWaterfalls, and also catch clips and promos onTV One's YouTube Channel.
Chasing Waterfalls airs tonight on TV One at 7p.m. ET with an encore showing at 9p.m. ET. Tune in and be inspired.
Listen to Drew Sidora talk about her role as Olivia on Chasing Waterfalls: