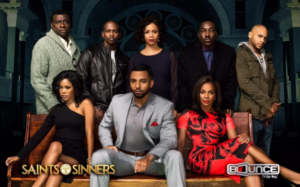 Saints & Sinners season finale airs tonight, April 24 on Bounce TV at 9p.m. ET. The hit drama will reveal who the murderer is and many your questions will be answered in an explosive first season conclusion.
The April 17 telecast of Saints & Sinners set Bounce TV network records. It reached an unduplicated 1.4 million viewers making the series the second most watched program on Bounce TV.
Saints & Sinners centers around the pursuit of power, intertwined with greed, deception, corruption and murder set against the backdrop of a large southern church. The series stars Vanessa Bell Calloway, Christian Keyes, Keith Robinson, Clifton Powell, Gloria Reuben, J.D. Williams, Jasmine Burke, Afemo Omilami and Richard Lawson.
by Lin. Woods
Follow me on Twitter @linwoods