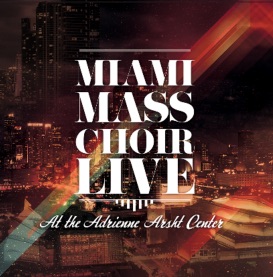 The Miami Mass Choir hopes to bring back the popularity of choir music with the release of its latest album, Miami Mass Choir Live: At The Adrienne Arsht Center. The choir's first project in fifteen years is an eclectic mix of Gospel, Praise and Worship, Contemporary Christian and Latin music sounds. The single "Lord Everything" is getting radio airplay, according to the choir's founder and director Pastor Marc Cooper of Upper Room Ministries in Miami Gardens, Florida.
Recorded in December 2015, Miami Mass Choir Live: At The Adrienne Arsht Center the album features special guest vocalists Beverly Crawford, Betty Wright, Zacardi Cortez and Tony LeBron. It is the choir's fourth album. The single, "Lord Of Everything" is gaining traction at radio.
The choir's first album, It's Praying Time (Savoy) was recorded in 1995 when choir music reigned supreme. It spawned the 1997 hit, "It Is For Me." That song solidified the Miami Mass Choir as arguably one of the best choirs in the nation. Cooper said, "We still hear it on the radio. We see it all over the Internet…even some reality star actors have quoted it on TV shows…its amazing the power and impact of that song."
Since its debut, the choir has become more diverse in its song offerings and with its multi-cultural membership. Being able to work across genres and reach people from all sorts of backgrounds and races is what has sustained the choir and opened up doors to opportunities beyond gospel.
One of those opportunities was working with HBO. Cooper said, "Being here in Miami…there's a lot of production…a lot of TV shows. We just did Ballers on HBO…I'm seen in a marching band…and the song that we're doing is and original song that we wrote just for the show…I've enjoyed all that's been coming. And it's just a great re-birth of the choir and what God is doing in our lives."
Staying in the entertainment mix of things while remaining true to the church and gospel in Miami helped the choir obtain its resident ensemble position with the Adrienne Arsht Center. The choir also performs at the center on Free Gospel Sundays series.
Cooper believes since the 1990s choir music has almost disappeared from the airwaves. "Now on radio you hear a lot of solo artists and groups…. before the birth of the Miami Mass Choir in the 1995 there were more choirs than groups…you had Mississippi Mass Choir…Georgia Mass…John P. Kee… you had choir music that was really out there…you go into a lot of churches today and you don't really see choirs anymore…you see…more worship teams.
There was a lack of material out there and so that's what radio played…And what ended up happening, is guys who were producers and songwriters who wrote choir material began to change what they wrote to try to continue to stay alive in their craft…and it shifted….However, I believe there is a revival of the choirs. The Miami Mass Choir, with our single, "Lord of Everything"… hopes to be a part of this revival.
We're looking to find that place again on the radio again that will help to rebirth and continue to pave the way for great choirs to record and produce great music," said Cooper.
Cooper feels Miami Mass Choir Live: At The Adrienne Arsht Center is their best album to date. Besides the single, his favorite songs include "I Will Rejoice," a song inspired by his wife Evangelist Joy Cooper and featuring them both; "That's What He Is" with Betty Wright (with a mean guitar riff); "Good News," a Latin flavored song with Contemporary Christian artist Tony LeBron singing in Spanish, and the churchy "Calvary" featuring gospel powerhouse Beverly Crawford.
"Calvary" was co-written by Donald Lawrence. Cooper sought Lawrence's help when he got writer's block. "I couldn't finish it…so I picked up the phone and I called the one and only Donald Lawrence…I said, 'Hey bro' I have this song but I can't figure out any verses to it. He said, "Send it to me." I sent him the song. And…in 45 minutes he was sending me a voice note by way of text message where he wrote the leads for that song," remembers Cooper.
He added, "I just pray that this new offering from the Miami Mass Choir will help bring back choir music to the level it was, that it energize local church choirs across the nation with material they can sing on Sunday mornings and in concerts."
The Miami Mass Choir, with its diverse group of talented singers offers and fresh inspirational song offerings may do just that.
Miami Mass Choir Live: At Adrienne Arsht Center is available on iTunes, Google Play and Amazon. You can also find them on Facebook or check out their website www.miamimasschoir.com
Listen to interview with Marc Cooper of the Miami Mass Choir.