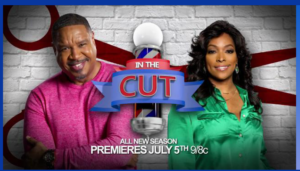 Bounce TV's hit series In The Cut returns for a second season July 5th at 9pm ET.
In The Cut stars Dorien Wilson (The Parkers, Dream On), Ken Lawson (The Parkers), John Marshall Jones (The Smart Guy). Kellita Smith (The Bernie Mac Show, The First Family) is the newest cast member of the popular original scripted sit-com.
Created by Bentley Kyle Evans and produced by Evans and partner Trenton Gumbs, In The Cut centers on barbershop owner Jay Weaver (Wilson) and Kenny Clark (Lawson), Jay's 31 year-old illegitimate son from a fling. Jay's life as a San Diego bachelor is thrown off course when he meets Kenny and leads to some fall off your chair laughs.
The new season of In The Cut will follow this father-son duo as they join in on a secret jailbreak, barbershop pranks and Jay's growing attraction to Cheryl (Kellita Smith), the new co-owner of the beauty salon next door.
New episodes of In The Cut will premiere Tuesday nights at 9:00 pm ET/8:00 pm CT starting July 5. For more information, click here for more show information.