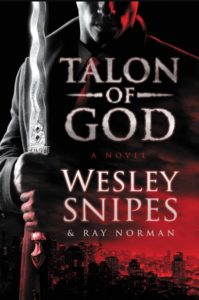 Wesley Snipes debuts his first novel, the spiritual thriller, Talon of God at stores and online now.
The award-winning actor and producer who has 88 combined acting and producer credits, is known to many as the sci-fi film superhero, sword wielding vampire slayer Blade, as opposed to contemporary supernatural thriller novelist. Snipes and his author, Ray Norman, do not disappoint his action films fans with the spiritual themed, fast paced Talon of God. It keeps the reader on edge from start to finish as you comb through the pages to find out what comes next.
Talon of God, published by Harper Voyager, an imprint of publishing giant Harper Collins, has something you do not have in your average novel, a kick butt and taking names female protagonist. The book tells the story of Lauren Jefferson, a Chicago doctor and a woman of faith, whose father is a baptist minister. As a sinister drug sweeps through the windy city fueled by evil-doers and threatens to take control of humanity, Lauren is recruited by strong man of God and legendary demon slayer, Talon Hunter. He trains her to be a spirit warrior. And together they fight off Satan's army and the forces of evil who want to enslave humanity and create Hell on right earth, Armageddon.
Snipes said, "Ray Norman and I worked hard to write a book that would be compelling to the wide audience of people who don't just love action and adventure, but also are seekers of answers to the ultimate questions about the Divine Creator's presence, purpose and power."
Although Talon of God just hit digital and brick and mortar bookshelves this week, Snipes has hopes, or "faith" that it will show up in other forms in the near future, maybe in feature-length film form. "My creativity has largely played out in film and television – but I've always had a desire to write a book.  Collaborating, crafting, creating this novel, Talon of God, was a new and exciting experience for me…and I can't wait to see if this story finds life in other forms," said Snipes.
Snipes is currently on the road doing appearances on television and promoting Talon of God at retail stores. His visits include Alamo Drafthouse Sloans Lake in Denver, CO on July 27 at 7p.m. and Barnes & Noble in Huntington Beach, CA on July 29 at 2p.m. He appeared at the Barnes& Noble in Tribeca-New York City and made a stop on the CBS Morning Show earlier this week.
As the novel sinks into the marketplace, it will certainly create a stir in both amongst the religious and agnostics. Besides that, Talon of God is a unique, thriller of a book. It is definitely worth the read.