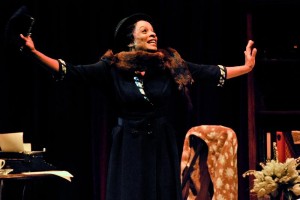 Actress Vanessa Bell Calloway was reincarnated as Zora Neal Hurston in her portrayal of the author in the one-woman play Letters From Zora: In Her Own Words, moved audiences to standing-ovation. It also earned high praise from her peers, Angela Bassett (Jumping The Broom) and Debbie Allen (FAME) who were on hand for the show.
Calloway delivered a nuanced performance. She narrated the daring and drama-filled life of the author using actual letters penned by Hurston. The one night only performance was written by playwright Garielle Pina. The show was held at the University of Southern California's Bovard Auditorium.
The veteran actress will join the CW network's hit series The Ringer for the season finale. She will play the role of Special Agent Berens, a Regional Director of the FBI.
Bell also has created her own web TV series, "In The Company Of Friends." The show features her celebrity friends, including Wendy Raquel Robinson,Salli Richardson-Whitfield, Vivica Fox, Loretta Divine and Donte Whitfield gathered around the dinner table, eating scrumptious food and discussing life topics such as, "What would I tell my 18 year old self."
Source:  The FrontPage Firm