The Stellar 32nd Gospel Music Awards premieres tonight on TV One at 6p.m. ET. with encore showings at 8 and 11p.m. ET.
Hosed by Gospel stars and multiple Stellar Award winners Erica Campbell and Anthony Brown, the event was taped before a live audience on March 25, 2017 at the Las Vegas Orleans Arena.
Gospel's biggest night belonged to Stellar Award winning gospel recording artist, singer, songwriter, actress and producer Tamela Mann (Recording: One Way) and Stellar Award winning singer, songwriter and producer, Travis Greene (Album: The Hill). They each received six awards. The two were followed by producer and recording artist Myron Butler (Myron Butler & Levi) who won three awards for his work with Tamela
Mann on her project On Purpose. Briana Babineaux (Keys to My Heart – Tyscot Records) won two awards, including Best New Artist.
After receiving one of her awards, an emotional Tamela Mann encouraged the audience  during her acceptance speech. She said, "Don"t worry about the White House, God provides…And to all these artists, I love you guys. I'm praying for all of us to make it. We can with the Lord's help. We can make it."
Special Stellar Medallions were given to individuals to commemorate excellence in their area of gospel, including
Dr. Leonard Scott – Tyscot Records founder, musician and pastor; Catherine Brewton – Vice President, Writer/Publisher Relations at Broadcast Music, Inc. (BMI)-Atlanta; Fred Hammond – singer,
songwriter, producer, and famed singing group, the Mississippi Mass Choir.
Spencer Taylor Jr. (of the Highway QC's) was awarded the Allstate James Cleveland Lifetime Achievement Award. The Ambassador Dr. Bobby Jones Award was presented to pastor, Gospel recording artist and civil rights leader Reverend Clay Evans. Harvey Watkins, Jr. (of the Canton Spirituals) was given the Thomas A. Dorsey most notable Achievement award.
Produced by Central City Productions, the Stellar Awards features an exciting mix of Gospel music performances from traditional and contemporary to hip hop and quartet gospel.
Tamela Mann, Travis Greene, Donnie McClurkin, Kirk Franklin, Canton Jones, Jekalyn Carr, JJ Hairston and Youthful Praise, Jonathan McReynolds, Jonathan Butler, Vashawn Mitchell, Israel Houghton, Tasha Cobbs, Da Chozen Brothaz, Keith "Wonderboy" Johnson, Doug Williams, Fred Hammond, Bizzle, Da Truth and more performed.
Executive Producer Don Jackson made a special announcement to excite the gospel music fans. He stated, "I am pleased to announce the launch of Stellar TV, a 24-7 Gospel music entertainment network scheduled to go on the air the fourth quarter of 2017. Gospel music needs its own platform. Text "StellarTV" to 797979. We need your support."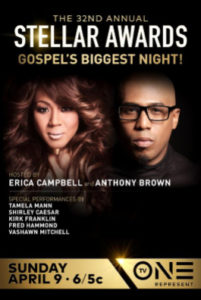 If you miss the the Stellar Gospel Music Awards tonight, you can still catch in when it airs in national broadcast syndication on 170 stations in over 150 markets from April 14-May 7, 2017. For more information visit www.tvone.tv
You can join the conversation on social media using the hash tags #StellarAwards and #Represent.
For a complete list of Stellar Gospel Music Awards winners visit www.thestellarawards.com
    Video Courtesy of Central City Productions