Terri J. Vaughn stars in UP original television movie "Where Is The Love?" which debuts Saturday, May 3, 7p.m. EST on the UP TV network.
Vaughn (UPs "In The Meantime" and "Meet The Browns") produced and co-wrote the romantic comedy. She also stars as Kai, the sister of Lamman Rucker's character, Dr. Sebastian Reid.
"Where Is The Love?" is the story of married couple, and relationship experts Sebastian and Ryan Reid, who are also radio hosts, played by Lamman Rucker and Denise Boutte' (of "Meet The Browns").
The couple keeps up appearances to their family and their patients. They appear to have it all until their marriage starts to fall apart. Then they have to decide if they want to save their marriage or just let it go.
"Where Is The Love's" cast also includes Karon Joseph Riley (UP's "Marry Me For Christmas", "Necessary Roughness"), rapper/actor David Banner ("Lee Daniel's The Butler", "Ride Along"), V103-Atlanta radio host, Darian "Big Tigger" Morgan ("106 & Park"); Ahmed Lucan ("Homeland"), Shirley Strawberry (co-host of "The Steve Harvey Show", "Madea Goes to Jail"), Nicole Eggert ("Baywatch," "Charles in Charge"), LeToya Luckett ("Single Ladies", "Treme"), Kandi Burruss ("The Real Housewives of Atlanta", "Let's Stay Together"), Tommy Ford ("Martin", "Basketball Wife") and singer-songwriter/actress Angie Stone ("Ride Along", Scary Movie 5″).
Vaughn said she took the script to Atlanta based UP TV over a year ago. Her production company, Nina Holiday Entertainment partnered with Swirl Films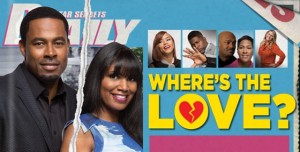 to bring the movie to the small screen. She said, "Make sure you tune in to "Where Is The Love?" and join the Twitter chat during the movie.
According to Vaughn, she has produced nine projects for UP TV. Her next movie will be filmed in Trinidad.