As the world mourned the loss of former South Africa President and civil rights fighter, Nelson Mandela, St. Louis, Mo paid homage to Mandela with the special memorial service, A Tribute to Nelson Rolihlahla Mandela – Celebrating the Life, Legacy and Values on December 12 at Centennial Christian Church before a crowd of local dignitaries.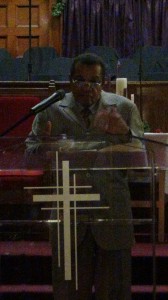 Lew Moye, president of the St. Louis Chapter of the Coalition of Black Trade Unionists, served as the main coordinator, and host of the service.  It was presented by the Organization for Black Struggle.  According to Moye, St. Louis hosted a large celebration for Mandela's 95th birthday and the South African Consulate office in Chicago contacted him to coordinate this memorial service in St. Louis. He said, "They wanted us to be included in the services that were taking place around the country.  They also indicated they wanted us to do something between Monday, December 9 and Friday, December 13, about four days.  We called a committee of folks together on Monday, December 9 and here we are today…three days later.
Interfaith and Political Speakers 
The evening was filled with speakers of various faiths and political offices from local to national levels, sharing how Mandela's life and teachings affected their lives.  The program also featured songs by the Centennial Church Choir and a special African dance segment.
Among the clergy representatives present were Rev. Jessel Strong, President of the St. Louis Clergy Coalition; Rabbi Randy Fleisher, Central Reform Congregation; Akbar Muhammad, African Representative for the Nation of Islam; Father Art Cavitt, Executive Director, St. Charles Lwanga Center; Rev. Derrick Perkins, Pastor, Centennial Christian Church and Imam Muhamed Hasic, President, Interfaith Partnership. Politicians and organization representatives who came include Charlie Dooley, St. Louis County Executive; Darleen Green, St. Louis Comptroller and Brian Williams, District Staff of Congressman Lacy Clay, D-Mo and Adolphus Pruitt, President, St. Louis City NAACP.
Moye believed Mandela remained loyal to the people of South Africa from is youth, to his 27 years in prison on Robbens Island up until his death on December 5 at his home in Johannesburg, South Africa.  He said, "Nelson Mandela's life and legacy touched us in many ways.  And has inspired us in many ways, inspired us to continue to fight for equality, justice and freedom."
As the hour-long program closed, Rev. Bobo added, ""I think we can sum it up in a song,…Mandela, his life, just might be sounded out this way, like this,  'If I could help somebody as I pass along, if I cheer somebody with a word or a song, if I can show somebody who is travelling wrong, then my living will not be in vain.' "
Moye gave the final words and said Mandela dedicated himself to breaking the chains of prejudice, bigotry, hatred and racism in South Africa, and we should commit ourselves to the cause of tearing down these walls in our communities and around the world.
By Lin. Woods
@linwoods