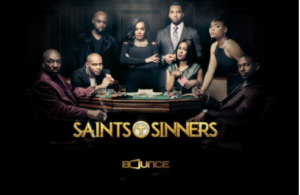 If you love all the drama of the church folks and the un-churched on Saints & Sinners in Atlanta suburban city, Cypress Georgia, you definitely want to tune in to the explosive season finale of Saints & Sinners, tonight at 9 pm ET/PT on Bounce TV.
Season two was filled with scandals done in the dark that came to the light, including murder, police corruption, sexual affairs and more that sought to tear apart the fabric of the town and its center, Greater Hope Baptist Church.
Saints & Sinners stars Vanessa Bell Calloway, Christian Keyes, Keith Robinson, Clifton Powell, J.D. Williams and Jasmine Burke.
Bounce's hit series Saints & Sinners is available for streaming on Brown Sugar.