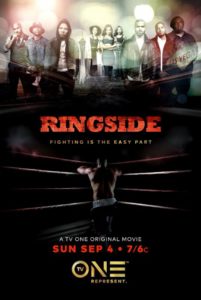 Ringside, TV One's latest original made for TV movie premieres Sunday, September 4 at 7pm ET.
Set in the world of boxing, Ringside stars Tyler Lepley (The Haves and The Have Nots), the undefeated, rising-star, college-educated boxer, Jaxon Holley and  Allen Maldonado (Straight Outta Compton, Black-ish, The Equalizer) as his nemesis, trash-talking, middleweight boxing champion, Spenser "Timber" Collier.
The action-drama-comedy was written, directed and produced by nationally syndicated radio host, Russ Parr (Hear No Evil, The Undershepherd, 35 and Ticking). The film explores the underside of the boxing world, from illegal activity, to the groupies, to the complicated frustrations and burdens carried by the boxer, management and their families. Parr, who is a fan of boxing and wrote the script in two weeks said, "We're so used to the typical romantic comedies…I wanted to do…a more heavy handed, dramatic…with a little sprinkling of comedy. And I find the boxing world really hasn't been touched…a lot of people don't understand the culture behind following the boxing world…I wanted to try and humanize the sport and yet show the darkness and the cut-throat business that it really is."
The characters in Ringside are multi-layered and complex. Lepley's character, Jaxon is a boxer with a master's degree in clinical psychology who at 16 had to take over the role as parent to his two younger siblings when their parents were killed in a car accident. Tequan Richmond (Ray, Everybody Hates Chris, General Hospital) plays his younger brother, wanna-be rapper, T.C. Atlantic recording artist, songwriter, Sevyn Streeter plays his flirtatious younger sister.
Parr said, "Not everybody's life is sugar rocks and rainbows…and I wanted to bring the darker side to a dark sport…from a human level…like the Jaxon character…he has a Masters degree in clinical psychology. You wouldn't think that someone with as maters degree would be a professional boxer."
Lepley easily slipped into his character. "We only had a few weeks to get ready for the role…Like Allen (Maldonado)…I come from a boxing background. So it wasn't like I was just putting on the gloves for the first time…the biggest thing was, just doing what I normally do…but doing it as if it was my job. In my life, you might catch me in the gym…putting the gloves on hitting the heavy bag maybe once every couple of weeks. But once I had gotten the call that we were going to start in two weeks it was an everyday thing…When I was done, the first thing I had was a big double cheeseburger," said Lepley.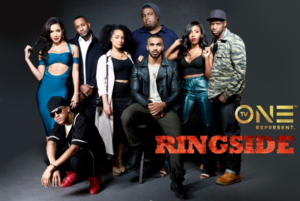 Ringside was produced by Swirl Films. It was executive produced by Eric Tomosunas and Keith Neal. Leah Daniels Butler, C.S.A. served as Casting Director. D'Angela Proctor is SVP of Original Programming and Production for TV One.
Tune in to see the chaos that ensues on the darker side of a boxer's world and what appears to be a set up for a TV series on Ringside tonight at 7 p.m. ET with an encore showing at 9 p.m. ET on TV One.
For more information about Ringside and on TV One, visit t www.tvone.tv. TV One viewers can also join the conversation on Twitter, Instagram, and Facebook (@tvonetv) using the hashtag #Ringside.
Click below to listen to Tyler Lepley talk about the complexities of his character "Jaxon"  in Ringside.