Rickey Smiley For Real is back for a fourth season on TV One, Tuesday, June 13 at 8pm. ET.
This season Rickey's life goes through changes as the young adults in his life explore life, take on challenges and make decisions that are not always aligned with Rickey's standards for their lives.
D'essence leaves school to work at a stripper club. Rickey jumps in and quickly moves her from Miami to Atlanta so that she will re-focus, get back in school, find a job, and get back in school. What Rickey doen's realize is that her return to Atlanta only moves D'essence closer towards a questionable relationship with Cornbread, Da Brat's artist.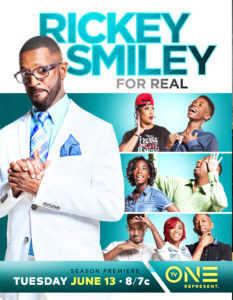 Radio show producer Beyoncé is pregnant and Gary promises to help her throughout her pregnancy. Gary assists Beyoncé' by attending parenting classes and planning her baby shower. Their close friendship alienates Gary's good friend Juicy from him. Meanwhile, Gary's talk show is being shopped.
The family is growing up and going in different directions but they still make an effort to put family first above all else. Beonka and Brandon contemplate marriage. Craig is heading to the Navy. Malik is busy at school. Aaryn comes back home for a visit from Columbia and surprises everyone with her new beau.
Da Brat makes a vow to give back to incarcerated women. In addition, Ed Lover gets Rickey Smiley a matchmaker.
The fourth season of Rickey Smiley For Real is filled with laughs, drama and teachable moments. It is a family show worth checking out Tuesday nights on TV One.