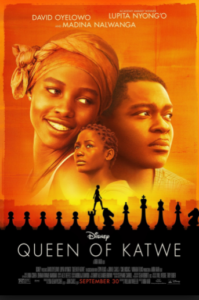 Walt Disney Pictures' Queen Katwe opens in theaters nationwide this Friday, September 30. The movie stars Golden Globe nominee Daniel Oyelowo as Robert Katende – chess teacher of unlikely chess star – Phiona Mutesi; Academy Award winner Lupita Nyong'o as Phiona's mother  – Nakku Harriett, and newcomer Madina Nalwanga as Phiona Mutesi.
Queen of Katwe is based on the real life story of Phiona Mutesi, a young girl from Katwe, Uganda,a very poor community where dreams can get lost in everyday life. She learns the game of chess, rises above poverty, amazing herself and others in her community.  With her family and community support, Phiona gets the empowerment and confidence she needs to pursue her dream of becoming an international chess champion.
Directed by Mira Nair, the film's screenplay is by William Wheeler. The Queen of Katwe was produced by Lydia Dean Pilcher and John Carls. Will Weiske and Troy Buder served as executive producers.
Queen of Katwe's soundtrack is on Walt Disney Records. It features Grammy award winning recording artist/songwriter Alicia Keys' new original song, "Back to Life. " The uplifting "Back to Life" was written by Keys, Carlo Montagnese and Billy Walsh. The tune was produced by Illangelo and Keys.
Queen of Katwe is family entertainment film that will encourage you to go after your dreams, no matter where you come from. It is a great film for the whole family to see.