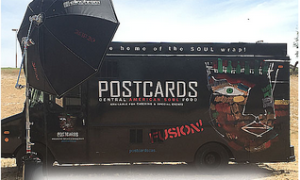 Food Network's The Great Food Truck Race kicks off August 23 in Santa Monica, California. Postcards Central American Soul food from Los Angeles hopes to be the last truck standing in the race on this popular show.
Los Angeles' PostcardsCAS is one of seven trucks competing for $50,000 in prize money the winner will take home at the end of the cooking journey. Tyler Florence hosts the Great Food Truck Race. The competitive food trucks will travel 2,500 miles along historic route 66 with stops in Arizona, New Mexico, Texas, Oklahoma, Missouri and Illinois ending with the show's finale in Chicago. Along the way the professional food truck operators create unique dishes and test their skills as mobile business owners.
Launched in 2013 by chef/owner Greg King, PostcardsCAS specializes in gourmet soul food. PostcardsCAS delivers tasty and healthy soul food options easily eaten on the go, served in a wrap or bowl. Known for the "Soul Wrap," King and his team's signature dish is chicken, mac 'n cheese, and greens served in either a wrap or bowl.  PostcardsCAS' menu features southern soul food favorites as well as food from other countries, such as Belizean staples (such as Rice and Peas, Oxtails and Plantain).
PostcardsCAS' dishes are inspired by famous African-American historians such as The Greatest inspired by Muhammad Ali, Langston's Choice after poet Langston Hughes, and Alice's Final Word, inspired by author "The Color Purple" author Alice Walker.
King said, "Soul food is loved by people of all walks of life; however, often it's only found in urban communities…I want to make this cuisine healthy and accessible to everyone, and it seems to be working…"
A successful marketer who has worked with NBC, Fox Entertainment Group, L'Oreal, Mattel and Warner Bros., King worked with his father, a classically trained chef, and brothers at their family's soul food business as a child.
He learned to create unique soul food dishes. However, when creating his brand of soul food he wanted healthy alternatives to the much loved dishes of his youth. That is where his soul food wraps come into play. They pay tribute to the dishes he grew up on without the calories and decadency.
Other competitors this season on The Great Food Truck Race are: Diso's Italian Sandwich Society (Brooklyn, NY), GD Bro Truck (Orange Country, CA), Pho Nomenal Dumplings (Raleigh, N.C.), Spice It Up (Phoenix), The Guava Tree Truck (Dallas) and Waffle Love (Provo, Utah).
Season 6 of The Great Food Truck Race launches Sunday, August 23, 9p.m./8p.m. CT on the Food Network. PostcardsCAS will hosts its own viewing party at The Parlor, 7250 Melrose Ave in Los Angeles at 5p.m. PT.
Links: www.postcardscas.com, www.foodnetwork.com