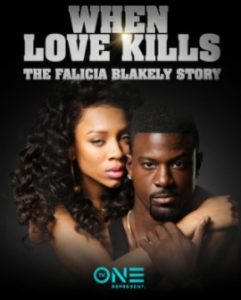 Lance Gross and Niatia "Lil' Mama" Kirkland star in the TV One drama, When Love Kills: The Falicia Blakely Story. The made for TV movie premiere's tonight, August 28 at 9/8p.m. CT.
When Love Kills: The Falicia Blakely Story, is the cautionary tale of a teenage mother who was pulled into a life of a stripping, theft, prostitution and murder by an older, abusive pimp who she thought loved her. It is based on the real life-story of Atlanta area teen mom, Falicia Blakely, the product of a single-parent home who was looking for love in all the wrong places. Blakely is now infected with Aids and serving a life sentence in prison as.
In her first leading role is Niatia "Lil' Mama" Kirkland as Falicia Blakely. Lance Gross (House of Payne) plays her pimp and boyfriend, Dino. Tami Roman (Basketball Wives) portrays Baker's love-starved mother.
The film also stars Tiffany Black, Floyd Mayweather, Big Freedia and Lil Zane.
Tasha Smith (Why Did I Get Married, Empire) makes her feature-film directorial debut in this made for TV movie. Blakely's story first aired as an episode of TV One's popular true-crime series, For My Man. When Love Kills: The Falicia Blakely Story is the first feature length film to bow from For My Man.
Smith closely identifies with Falicia Blakely's life. She said, "I connected with it coming from the urban environment, I had been a stripper…coming from Camden, New Jersey and just growing up in an environment of strip clubs and pimps and people and stuff… I just felt like I would be able to bring a heart and humanity to this character.
Like a lot of times, people just don't understand what people's struggles are…what their emotional upbringing is, what can maybe cause them to end up in the situations that they may end up in. I just felt like we needed to have empathy for the Falicia Blakely's of the world. So I had a real passion and compassion for her, for her experience, for her, for the family for the victims and their families."
Kirkland (Falicia Blakely) feels she landed the lead by divine intervention. "It was a risk for me and when I thought about how desperate young women are all over the country…all over the world, for that matter, in need of a voice of someone who could help them and to minister to them through acting, I knew I was chosen for it for a reason," said Kirkland.
Gross's role as a vicious, preying pimp was completely different from who is as a person and stretched him as an actor. He said, "This is the type of role that an actor dreams of 'cause its so far left of who I am…I had a long talk with God…and went completely method with this."
When Love Kills: The Falicia Blakely Story airs tonight on TV One at 9 ET/8 CT.m Viewers can also join the conversation by connecting via social media on Twitter, Instagram and Facebook (@tvonetv) using the hash tag #WhenLoveKills. 
Director, Tasha Smith talks about her lead actors in TV One's movie, When Love Kills:The Falicia Blakely Story. Click and Listen.
Listen to Niatia Lil Mama Kirkland talk about her character in When Love Kills: The Falicia Blakely Story and the choices we make in life. Click and check out her conversation.