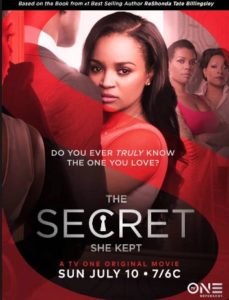 Kyla Pratt stars in the TV One drama, The Secret She Kept, Sunday July 10 at 7pm ET/6 PM CT. The original made for TV movie is TV One's creative effort to bring to light how the African-American community is affected by and deals, or sometimes does not deal with mental health issues during July, The BeBe Moore Campbell National Minority Mental Health Awareness Month.
Inspired by the best selling-book of the same name written by author and NAACP Image Awards winner ReShonda Tate Billingsley, The Secret She Kept delves into the world of successful Atlanta attorney Tia Jiles, played by Kyla Pratt (Recovery Road, One on One, The Proud Family, Dr. Doolittle). Tia is running for district attorney and gets married to magazine publisher and journalist, Lance Kingston, played by Gavin Houston (The Haves and the Have Nots, Guiding Light) when she mentally starts unraveling. It is later revealed that she is schizophrenic and bi-polar and Tia is fighting to maintain her high-powered life and stay functional. What is even more intriguing is that Tia is not the only one in her family who is suffering from mental illness. Pratt said of her role, "I wanted to make sure that I gave it justice…that someone could watch it, and it really affect their life.
Houston's character investigates out of concern and finds out his wife is mentally ill, but he still stays with her. He said, "There's strength in opening up and letting others be there (for you)."
Kellita Smith (Z Nation, In The Cut, The Bernie Mac Show, The First Family) portrays Kyla Pratt's character's mother, the overbearing, over protective, controlling, judge Virginia Scroggins-Jiles. Virginia goes about keeping the upper class family's secret of mental illness from the public. Her father committed suicide fighting away his mental demons. Virginia's brother Leo Scroggins (George Bryant II) is battling for his sanity under her the ever-watchful eye.
According to Psychology Today, mental illness is often misunderstood in the African-American Community and has a stigma attached to it. African-American would rather seek help from a trusted friend or church pastor than a mental health professional.
Vanessa Williams (Soul Food, Melrose Place) plays Beverly Kingston, the older, protective sister and business partner of Lance. She believes African-Americans with mental health concerns need a combination of mental health resources, "We (need) to utilize all the tools we have, including calling on Jesus and scientific help."
Beverly's line about Tia and 'crazy' in the movie is reflective of how many in the African-American community think when it comes to mental health. She says in a conversation with Lance, "I mean, yeah, I always thought girlfriend was a little bit crazy. But not sho' nuff crazy, like white folk take pills lay on the couch crazy. But just regular, 'girl you crazy, crazy.' …Black chics don't do therapists, pastor maybe…girlfriend possibly, hair dresser definitely, but therapist, no."
D'Angela Proctor, TV One Senior VP of Original Programming and Production, believes the film is vital to the African-American community. "Mental health is generally something the African-American community does not talk about… If one person is prompted to go and seek help, then this movie would have been worth it," said Proctor.
Written by Rhonda Freeman-Baraka, the strong and talented cast, plus its intriguing and much-needed story line makes The Secret She Kept not only entertaining, but educational and necessary in creating dialogue and awareness about mental health in African-American families.
Tune in to see this excellent movie. The Secret She Kept premieres on TV One this Sunday, July 10 at 7pm ET with an encore showing at 9 pm ET. You can also join the conversation using #SecretSheKept and #Represent on social media.