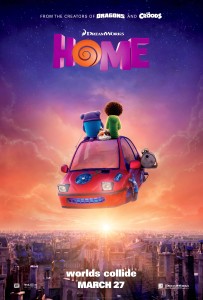 HOME, DreamWorks Animation's latest full-length feature, hits theaters Friday, March 27, 2015. Based on Adam Rex's best-selling book, The True Meaning of Smekday, the film stars Tip (voiced by Rihanna), Oh (Voiced by Jim Parsons), Captain Smek (voiced by Steve Martin) and Lucy Tucci (voiced by Jennifer Lopez).
HOME is the story of Oh, a loveable misfit from another planet who is on the run from his people. He lands on Earth and forms an unlikely friendship with Tip, an adventurous multicultural girl from Barbados living in the big city. Tip is also on a personal journey of discovery. In this lesson-filled comedic adventure, Oh and Tip learn that being different and making mistakes is what makes human beings who they are. Together they learn the true meaning of HOME.
Jennifer Lopez and Rihanna are both featured on HOME's original soundtrack. Lopez is inspiring on "Feel The Light." Rihanna performs on "Towards The Sun," "Dancing In The Dark" and "As Real As You And Me." HOME is a fun, family entertainment movie all ages will enjoy.