Lance Gross (House of Payne) and Niatia (Lil Mama) Kirkland (Crazy,Sexy,Cool: The TLC Story) star in the TV One original movie, When Love Kills: The Falicia Blakely Story. Directed by Tasha Smith (Why Did I Get Married), the made for TV picture was inspired by the heart-wrenching true story of an Atlanta area teen mom, turned stripper (Falicia Baker played by Kirkland) who came under the influence of a pimp and predator 11 years her senior (Dino portrayed by Gross), who led her into a life of crime. The ill fated affair between an older abuser and a young girl looking for love in all the wrong places led to the adolescent serving three life sentences in prison for three separate murders. If you love the TV One true crime series For My Man, you will want to add When Love Kills: The Falicia Blakely Story to your "got to watch" TV list. The movie premieres Monday, August 28 at 9 p.m. ET on TV One.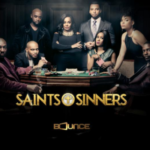 Bounce TV has renewed three of its most popular TV shows for the upcoming season: In The Cut, Family Time and Saints & Sinners. Additionally, the African American audience targeted network has added the situation comedy, Grown Folks to the 2017-2018 line-up. It stars Gary "G-Thang" Johnson (Disaster Movie, Moneyball),Tracey Cherelle Jones (Don't Be a Menace to South Central, Baby Boy), Jay Phillips (Semi-Pro, Prom Night) and Caryn Ward Ross (The Game, You Take the Kids). Grown Folks premieres October 3 at 9:30 p.m. (ET).
More TV and Faith Based Movie News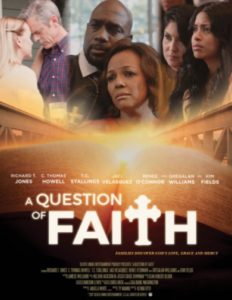 Los Angeles based Silver Lining Entertainment's faith based film, A Question of Faith is being released theatrically by Nashville Pure Flix Entertainment September 29. The film stars stars Richard T. Jones, Kim Fields, T.C. Stallings, C. Thomas Howell, Jaci Velasquez, Gregory Alan Williams and Renee O'Connor.
Another Pure Flix film, Same Kind of Different As Me will arrive in theaters in October 20. This family entertainment picture features a star-studded cast: Academy Award winners Renee Zellwegger and Jon Voight, and Academy Award nominees Djimon Hounson and Greg Kinnear. The film is based on a true story from the best selling book by the same title..
Rickey Smiley, television and radio personality and Grammy Award-winner and actress LeToya Luckett, will co-host Central City Productions' (producers of The Stellar Awards) Black Music Honors, Friday, August 18 at the Tennessee Performing Arts Center (T-Pac). The two hour television taping will pay tribute to musical artists across genres who have contributed greatly to the fabric of music in this country. This year's honorees are The Jacksons, Donnie McClurkin, Slick Rick, Guy, Oleta Adams and Jody Watley.  Black Music Honors will air in broadcast syndication, September 2-30 and on Bounce TV October 10, at 7 p.m. (ET).
"I am pleased and thrilled to honor some of today's most influential and iconic music artists", said Don Jackson, founder of Central City Productions and executive producer of Black Music Honors.
Black Music Honors will include special performances by Avery Sunshine, Dave Hollister, Jonathan Butler, Karen Clark Sheard, Kid N Play, Latrice Crawford, Leela James, Marvin Winans, SWV, Da Brat, Sevyn Streeter and more.
Proceeds from the ticket sales of Black Music Honors will go to the National Museum of African American Music. The museum is scheduled to open in Nashville in 2019.  For information on attending Black Music Honors click here: Tennessee Performing Arts Center.
Gospel Music News
Tasha Cobbs Leonard is one busy lady. She just released her new project Heart.Passion.Pursuit (Motown Gospel) last week, and on Tuesday, August 8 she announced the 2017 nominees for the 48th GMA Dove Awards in Nashville along with Ben Calhoun of Citizen's Way.
Ohio-based Urban Contemporary Gospel trio Half Mile Home is preparing to release their new radio single "This Far" to gospel radio. They enjoyed success with their last single, the Billboard Top 15 radio single "Thinking Of Me," from their latest project Don't Judge Me, which reached No. 11 on Billboard's Top Gospel Albums chart.
The new single "This Far," will be available at digital outlets Friday, September 29th.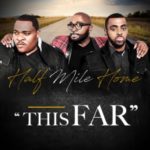 There is a new website to download gospel music by indie artists. It features all styles of Gospel music, from choirs to praise and worship, to instrumentals. Artists and fans, if you want more information e-mail info@digitalgospeldownloads.com or visit  www.digitalgospeldownloads.com
Two-time Stellar Award winner Ted Winn is prepping for the release of his latest music project,Stand In Awe (Shanachie Entertainment). It is slated for release in September.