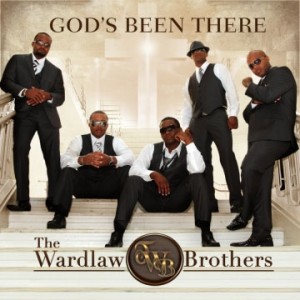 Tony, Luther, Jamie, Carl and Rodney Wardlaw, better known as The Wardlaw Brothers aka TWB recently wrapped up a summer tour in the U.S. promoting their indie new release GOD'S BEEN THERE.
Thanks to their branding and marketing consultant, Benita Bellamy of The Bellamy Group, I had the chance to interview them in St. Louis between soup and salad at the St. Louis Bread Co.  And oh how I love their cheddar broccoli soup!
TWB's single, the quartet flavored "Right Now Lord" is riding high on the Gospel charts.  It has reached #26 on the Gospel Billboard Radio Chart.  And while that song is still going strong, the siblings from Vidalia, GA have released another single, "Hallelujah," an electronic infused praise anthem to Christian Radio that is being received well by audiences across genres and formats.  It has been added to 52 Christian Radio stations and is continuing to garner adds and spins.
I talked with The Wardlaw Brothers about their music, what it's like being pastors' kids, what rubs them the wrong way about Gospel and more.
Listen and be inspired!
Click here to listen:  http://bit.ly/1bPrsJe
(The Wardlaw Brothers Interview is also available on the Lin. Woods' Gospel Entertainment Podcast, FREE on iTunes)
The Wardlaw Brothers Website: www.twb5.com
by Lin. Woods, Faith Base/Family Entertainment Writer, Editor and Blogger
E-mail:  linwoodsinspired@yahoo.com