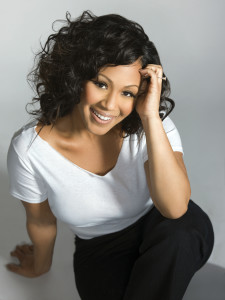 Erica Campbell is the host of Reach Media's new inspirational morning show, Get Up! Mornings with Erica Campbell beginning syndication May 10 from 6-10a.m. ET. The show replaces Reach Media's The Yolanda Adams Morning Show.
Get Up! Mornings with Erica Campbell is a collaboration between Reach Media and Radio One. Campbell, a platinum selling, award winning gospel recording artist, one half of the duo Mary Mary, reality TV star, business woman and first lady of California Worship Center church, brings to the morning drive show a wealth of experience in gospel entertainment and a treasure chest of connections to the stars and whose who in the gospel music entertainment world. The show promises a fresh take on what a morning inspirational radio show sounds like.
Get Up! will feature a mix of gospel and inspirational music, celebrity interviews and principles to help listeners tackle the day to day issues of life as her manta decrees: Faith Walking. Love Talking. Joy Living.
Campbell, a social media maven with 2 million followers says, "I'm grateful to Reach Media, Radio One, Dan Otero of Globe Star Media and Warryn Campbell, CEO of My Block Records, for believing in me and my ability to inspire America to Get Up!"
David Kantor, Chief Executive Officer of Reach Media and Radio One's Radio Group states, "Erica has mastered her craft in music and she's winning in reality TV and even social media. I'm glad Reach Media and Radio One can provide her access to syndicated radio – another media to dominate and share her inspirational voice."
Tune in to your radio on May 10, 6-10a.m. ET when Get Up! Mornings with Erica Campbell launches nationally.