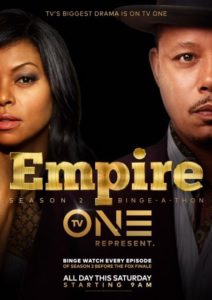 TV One airs season 2 of the hit TV series Empire in a Memorial Day Marathon. Empire, an urban entertainment family drama, is being served up in a non-stop desert package to its fans and viewers of TV One today starting at 7a.m. ET.
The award winning series stars Academy Award nominee Terrence Howard, Academy Award (Luscious Lyon) and Emmy Award nominee, Taraji P. Henson (Cookie Lyon). Henson said of the Empire Marathon, "Don't forget to thank your Cookie on this historic occasion!"
In addition to the TV One Memorial Day Empire Marathon, TVOne.TV is launching four new online packages, including "Which Empire Character Are You?" It is an exclusive online quiz to see if viewers have what it takes to be a Lyon. and "Best Empire Looks," a week-to-week editorial about the characters' best looks.
Also, viewers can explore TVOne.TV's "Fight For The Throne," to see the best power moves of the show's Lyon family members characters, Andre Lyon (Trai Byers), Hakeem Lyon (Bryshere Y. Gray), Luscious Lyon, Jamal Lyon (Jussie Smollett) and Cookie Lyon.
If you are one of the fans that is addicted to the series and has to get your "Cookie" fix, you must tune in and watch Empire today, all day, on TVOne.