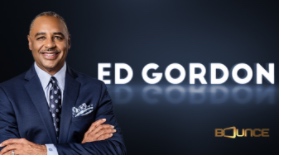 The Ed Gordon quarterly magazine show returns with celebrity interviews with some of today's favorite African American stars at 10 p.m. ET tonight on Bounce TV.
Gordon, the award-winning journalist who nabbed ground breaking big interviews with O. J. Simpson and Tupac, sits down with the cast of the summer comedy film, Girls Trip. Queen Latifah, Jada Pinkett Smith, Regina Hall and Tiffany Haddish discuss careers, their real lives and what its like to be an African American woman in Hollywood today.
On paving the way for others, Queen Latifah said, "It's people like Jada's husband Will (Smith) who helped us every step of the way, so it wasn't just us When Will got in he helped me get in…I'm going to help somebody else get in. It's not about keeping it all to yourself it's about passing it on and keeping that door open."
Gordon went to the set of Good Morning America to profile former football star turned television broadcaster, Michael
Strayhan. He talks about the challenges he's faced on his rise to stardom.
Omari Hardwick shares with Ed Gordon what its like being the star of the hit TV series Power and the flack he received on social media about his interracial marriage.
To get some comic relief, Gordon talks with comedians Cedric the Entertainer and D.L. Hughley. Cedric the Entertainer discusses comedy in the wake of the Trump era while D.L. Hughley sheds light on the difference between black and white comedy.
The NAACP Image Award winning journalist is known for getting in depth with interviewees. Gordon said, "I try to do more than just sit down and talk about people's latest project. I always try to get them something a little deeper, something a little more personal than any of the other interviews we do."
According to Gordon, his first special on Bounce TV received close to one million viewers. It spotlighted the mothers of the movement, women who lost their children to gun violence at the hands of police, such as Sybrina Fulton, the mother of Trayvon Martin and Lezley McSpadden, mother of Michael Brown. Other guests on Ed Gordon have included Nate Parker, the controversial director and star of the film, Birth Of A Nation and singer Maxwell.
If the devotion continues between the fans and Ed Gordon, tonight's July 17th special at 10p.m. ET on Bounce TV should do well.
Ed Gordon talks about his upcoming specials in 2017 on Bounce TV. Press the arrow to listen.