D A Johnson is a 25-year music industry veteran on a mission to expand gospel music into mainstream entertainment. The recently appointed general manager of Nashville's Light Records, a division of E One Music, grew up in New York in a home filled with gospel music. His mother is a minister and his father was a gospel singer/songwriter.
Johnson's father, the late Willie Cornell Johnson, exposed him to the gospel music industry as a child. "I've always been involved in gospel music. My dad was a gospel quartet recording artist. He recorded for Peacock Records. He later recorded for Savoy Records (a division of the Malaco Music Group). So I've always been around music. I went to a music college. I graduated from Berklee College of Music," said Johnson.
His father founded the gospel quartet group The Mighty Brooklyn Skyways. They were known for their hits "Everybody Wants To Go To heaven (But Nobody Really Wants To Die)" and "May The Work I've Done Speak For Me."
Although gospel music may have permeated the Johnson home, a young D A Johnson rebelled against the genre and became a hip-hop recording artist under the name D.A.J. "As a kid I vowed I would never personally work in gospel," said Johnson.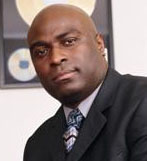 By the early 1990s, Johnson had become a label owner. He said, "When I graduated, I started a label… it was called White Records. And I had a subsidiary hip-hop label called Knock 'Em Out of The Box. I did that with a gentleman named
Freedom Williams. He was with C + C Music Factory. And once they took off he decided to move on to other things. And I kept pursuing the label aspect of it."
Johnson said his goals changed when he met legendary Stax Records (former label home of The Staple Singers, Isaac Hayes and Otis Redding) label founder Al Bell in Los Angeles. He remembers, "I initially approached him about a distribution deal. And he asked me if I would put my label on the back burner and help him build his label, which was Bellmark Records at that time, and Life Records. And I felt that he was a legend, and I thought that it would be a great opportunity to be able to work with him. So I did just that, and I helped him build Bellmark Records, and that was in 1992."
Johnson became head of marketing and promotions at Bellmark. The label released 1990s hit songs Whoomp! (There It Is) by Tag Team, Dazzey Duks by Duice and "The Most Beautiful Girl In The World" by The Artist Formerly Known As Prince.
"But we also did gospel. We had Rance Allen, Edwin Hawkins, Walter Hawkins, and Deitrick Haddon. He's popular know but back then he was in a group called Perfect Peace," said Johnson. "I was with Bellmark from 1992 to 1998. I came back to New
York and I was working with the Malaco Music Croup. I was at Savoy Records (a subsidiary of Malaco). So the label that my dad recorded on, I ended up being the head of marketing and promotions for that company and for that group. And I was with Malaco up until recently, 2014. So I was with them fifteen years," noted Johnson.
In May 2014 Johnson became the general manager of Light Records. He oversees the day-to-day operations at the label. Light's gospel artist roster includes Shirley Caesar, JJ Hairston and Youthful Praise, Ricky Dillard and New G, Dorinda Clark Cole, Bishop Paul S. Morton, Todd Dulaney and Jonathan McReynolds. Light's parent company, E One Music also distributes the music of Michelle Williams (Destiny's Child), Erica Campbell (WeTV reality star and one half of duo Mary Mary), Karen Clark Sheard, Donald Lawrence, and Three Winans Brothers, a group that started out on Light over 30 years ago.
Johnson said it's a great time for gospel music and its artists. "It's been an exciting time for the past fifteen years. It's changed because gospel music is pretty much mainstream. Once upon a time you had artists who would sell 50,000 units, 60,000 units, now they're selling 500,000 units, 600,000 units, and even a few that have gone Platinum. Then you have television specials, the Internet now, social media…artists have hundreds of thousands of followers…a couple of million views on YouTube…and I believe with the reality TV shows, it's just the beginning."
He also said that gospel artists should expand their brand. "I think its great for a person to be able to expand their brand…I think anytime you could reach people and disperse the message of faith and hope is a good thing…and the company that I work for, now is the number one independent…or distributor of content…so my goal is to just continue the legacy of the brand."