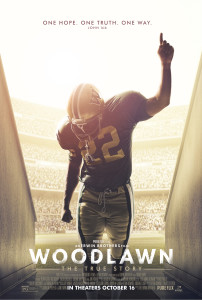 Child actor Devin Bright shines in faith-based movie Woodlawn. The Erwin Brothers feature film opens in theaters nationwide on October 16.
Bright, a seven year old actor from Charlotte, NC stars as Cedric Nathan the youngest son of Sherri Shepherd (Mama Nathan) and Lance E. Nichols (Junior Nathan), and the younger brother of Caleb Castille (Tony Nathan), the picture's main character.
The sweet, mannerable fourth grader, (he kept calling me mam throughout our interview in the most adorable voice) gained national exposure on HGTV.com's  Property Brothers' Toddler Vs. Toddler.
Besides enjoying being on set with Sherri Shepherd, the Tae Kwon Do student and classically trained pianist said he learned a lot from all the seasoned actors in the Erwin Brothers Christian film (Mom's Night Out, October Baby), including Jon Voight (famed University of Alabama football coach Paul "Bear" Bryant), Lance E. Nichols. The film also stars Sean Astin (Hank), Nic Bishop (Coach Tandy Geralds) and C. Thomas Howell (rival team coach George 'Shorty' White).
Woodlawn is based on the true story of former Miami Dolphins star running back Tony Nathan and his high school football team. The Woodlawn High School team overcame adversity and the trappings of racism in the 1970s to ignite their faith, push back hate and bring about a change in the 1970's racially charged Birmingham, Alabama. The team's faith brought about and a spiritual awakening city-wide and inspired hope where none existed.
Loaded with talent and skills way beyond his years, the multi-gifted Devin Bright showed a range of emotions in his break out role in Woodlawn that will surely land him more film and in the future.
To hear more of my interview with Devin Bright, click here to listen: