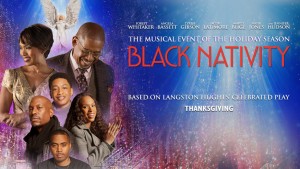 Hollywood is ringing in the season with a slew of feel good movies for the holidays. Among those is Fox Searchlight Pictures' "Black Nativity".   The family entertainment film features Oscar winners Forest Whitaker and Jennifer Hudson, and Oscar nominee, Angela Bassett.  It's a re-telling of the timeless Christmas nativity story from a modern-day, African-American perspective.  "Black Nativity" is a film/musical about faith, family, hope and forgiveness, making it the perfect movie to take the whole family to see during the holiday season.  "Black Nativity" opens November 27, just in time for the biggest family day of all, Thanksgiving.
The Director, The Cast and The Music
"Black Nativity" is based on the 1961 play by renowned African-American poet/playwright, Langston Hughes.  It was adapted for the big screen by the film's director, Kasi Lemmons.  The part drama, part musical features some of the best music this side of heaven by Grammy Award winning producer, Raphael Saadiq.   The actor/singers in the cast are Tyrese Gibson, newcomer Jacob Latimore, multi-platinum selling recording artist, Nasir Jones (aka Nas), and Grammy award winner Mary J. Blige.  Mega Church pastor, T.D. Jakes served as an executive producer of the film.
"Black Nativity's" story revolves around the prominent Cobbs family, headed by straight laced Harlem church pastor,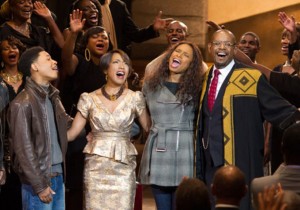 Rev. Cornelius Cobbs, played by Whitaker.  Bassett plays his wife, the agreeable Aretha.  Hudson is their struggling, estranged, angry, single-parent daughter, Naima.  Jacob Latimore rounds out the broken family as Langston, Naima's Baltimore raised, 15-year-old streetwise son. He is sent to live with his grandparents and embarks on a journey of discovery, faith and forgiveness that pulls the family back together.  Along the way, he meets the father he never knew, played by Tyrese Gibson.
During an interview session I attended in Los Angeles, the stars talked about their roles.  Bassett  said, "I'm Aretha Cobbs.  We've been together (married to Rev. Cobbs) for 30 years.  And we get an opportunity to meet someone who is so special and is held deeply in our hearts, but whom we've never met.  And that's our grandson, Langston.  He comes to visit and just changes everything about the way we've been living and loving for the last 30 years."
Whitaker said, "With Naima, I (Rev. Cobbs) have a lot of regrets. Because of the choice I made, she left our household (pregnant at 15).  And so for the last 16 years, I have not seen her and my grandson."
At 17, Latimore is the youngest member of the cast.  He said that his character tries to be tough.  "Langston has this rough outer edge, but he has a really sensitive core…And he learns that it's okay to forgive.  And being a peer to teens my age, to have (this type of message), and to have it come from me, somebody their own age, that's incredible."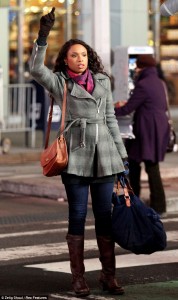 Sporting a brand new pixie hairdo, a short, tight-fitting skirt that accentuated her svelte frame, and an uplifting attitude, Jennifer Hudson entered the session and admitted breaking her vow to never do another musical when she joined the cast.  This was a chance to work with Bassett and Whitaker.  She said, "I look at each thing (role) as a learning experience…I'm learning from Forest and I'm learning from Angela."
"Black Nativity,"  with its Oscar studded cast,  messages of hope, faith, family, inspiration and forgiveness, will encourage you during the holidays and beyond.
It opens in theaters November 27.
Website: www.blacknativitymovie.com

#Stay Inspired!
Lin. Woods