The Music World's biggest night of the year is about two weeks away and the excitement is building. The Recording Academy will host its 58th Annual Grammy Awards, February 15, 2016 live from The Staples Center in Los Angeles.
Rapper Kendrick Lamar leads the nominations with a whopping 11. Taylor Swift and The Weeknd follow with seven nods each.
While I love all styles of music, from classical and Jazz to country, blues and pop, gospel is the music I wrap my soul around as I journey through this life. One of my favorite gospel songs right now is "Worth" by Anthony Brown & Group therAPy. The group is nominated for Best Gospel Performance for "Worth" (Live). I asked Brown how it felt to receive his first Grammy nomination for a song he says God inspired him to write. He said, "God continues to blow my mind. I never saw this coming and still it feels so unreal. My prayer was always to hear the voice of God and translate it into a song that would reach people. This just solidifies for me that the scripture is true…Your gift will make room for you and bring you before great men. I'm so grateful for this."
Anthony Brown & Group therAPy is nominated in the same category as Kirk Franklin, Travis Greene, Israel & New Breed and Brian Courtney Wilson.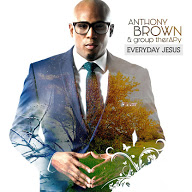 Actor, rapper and star of CBS' hit show, NCIS Los Angeles, LL Cool J returns for the fifth year in a row as host of the Grammys. The Grammys will air Monday, February 15 on CBS at 8 ET/7 CT.
BET's Celebration of Gospel returns to the network on January 31, 2016, 8pm ET/7pm CT. Empire's Taraji P. Henson is back as host of the inspirational gem that fuses R&B and Urban Entertainment with Gospel's best and brightest talent for one night of soul-stirring entertainment. Celebration of Gospel will feature appearances by Tamela Mann, Kirk Franklin, Gladys Knight, Tank, Donnie McClurkin, Chaka Khan, Yolanda Adams, Jonathan McReynolds, Tasha Cobbs, Erica Campbell, Travis Greene, Heavenly Joy Jerkins, Pastor Charles Jenkins, Kurt Carr, Tye Tribbett, Deitrick Haddon, Jessica Reedy, Donald Lawrence, Shirley Caesar, Dr. Bobby Jones and more.
Taraji P. Henson is a Hollywood star hose career is on fire right now. Her role as Cookie Lyon on Fox's hit series Empire has taken the actress to household name status. Henson recently won a Golden Globe Award for Best Performance by an Actress in a Television Series. Empire was also nominated for Best Television Series – Drama.
Hezekiah Walker is set to perform Sunday, January 31 during the 27th Annual Zora Neal Hurston™ Festival, January 31 at St. Lawrence African Methodist Church in Eatonville, Florida. Other inspirational artists and guests that day include Pastor Riva Tims and Martha Munizzi. The Annual Zora Neale Hurston™ Festival of the Arts and Humanities commemorates the 125th birthday of the festival's namesake also with a special dinner.
Movies
I love movies, but only a few are worth my time and hard earned cash to go and see. Three that I am recommending you consider seeing are Ride Along 2, 50 Shades of Black and The Race.
Ride Along 2, directed by Tim Story (Ride Along, Think Like A Man, Fantastic Four), stars Ice Cube (James) and Kevin Hart (Ben), reprising their roles as two Atlanta law enforcement officials in the action comedy. The two work on a case involving drugs that leads them to Miami. Ride Along 2 will give you plenty of laughs. It is a good date night movie. So get a date and go see it. Ride Along 2 is in theaters now.
Another movie that will make you laugh, laugh, laugh is Open Roads' 50 Shades of Black starring Marlon Wayans. It is a parody of the 2015 film 50 Shades of Grey. Check out 50 Shades of Black in a theater near you.
The Race is a biopic based on the true story of African American Olympic track superstar Jesse Owens. The film centers on Owens' trials in a segregated United States leading up to his gold medal, record breaking performance at the 1936 Olympics in Berlin when the Nazi's were in power in Adolf Hitler's white Aryan supremacist Germany. Directed by Stephen Hopkins, the movie stars Stephan James, Carice van Houten, Jason Sudeikis, William Hurt and Jeremy Irons. Go see this movie. You will be educated and entertained. The Race opens in theaters February 19.
Music Conference
There are fewer and fewer music entertainment conferences worth attending today, especially legitimate ones for Urban Entertainment. One that remains and is well worth going to for those who are serious about careers in the music business, or if you want to connect to movers and shakers in music, film and the digital world is the Urban Network Digital and Music Industry Quarterly – Annual Music Entertainment Conference. It will be held June 1-5, 2016 at the Crowne Plaza-San Diego Hotel. For more information go to www.urbannetworkdigital.com
Lin. Woods
Follow me on Twitter: @linwoods