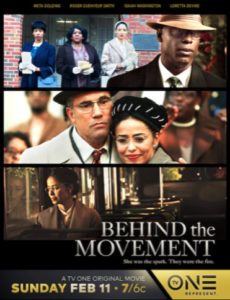 Civil Rights era movie Behind The Movement premieres Sunday, February 11 at 7pm ET/6pm CT on TV One. The original made for TV movie honors some of the unsung heroes of the civil rights movement.
Airing as part of TV One's celebration of Black History Month, the film looks into how Rosa Parks' saying "no" to giving up her seat to a white passenger on a Montgomery, Alabama bus sparked the historic Montgomery Bus Boycott in 1955, which in turn launched a then little known young Baptist preacher, Dr. Martin Luther King, Jr. into the deep waters of the growing civil rights movement as its leader. However, there were many people working tirelessly out of the spotlight who made the Montgomery Bus Boycott and the Civil Rights Movement successful. From the people who made copies and passed out the fliers, to those who orchestrated and drove the cars in the car pool so participants could get to work and school during the Montgomery Bus Boycott, Behind The Movement tells their story.
Behind The Movement lends names and voices to those who labored behind the scenes to propel the civil rights movement forward. It looks at what preparation was taken by some of these "foot soldiers" three days before Rosa's refusal to give up her seat on that bus which resulted in a over a yearlong successful Montgomery Bus Boycott. The boycott helped lead to changes against that helped knock down segregation laws in public transportation.
The movie stars Meta Golding as Rosa Parks (The Hunger Games), Isaiah Washington as Edgar "E.D" Nixon" (The 100) and Loretta Devine as Jo Ann Robinson (Waiting To Exhale), Roger Guenveur Smith as Raymond Parks (American Gangster), Shaun Clay as Dr. Martin Luther King, Jr. (Crazy Sexy Cool: The TLC Story) and Keith Bolden as Ralph David Abernathy (Goosebumps).
Directed by Aric Avelino and written by Katrina M. O'Gilvie, Behind The Movement was produced for TV One by Swirl Films. Fans can connect on social media #BehindTheMovement or #Represent.