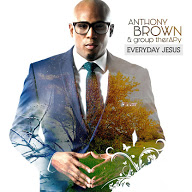 Anthony Brown & Group therAPy tops Billboard charts with album Everyday Jesus.
The Stellar Award winning duo/group responsible for the breakout 2013 award-wining hit "Testimony," released their sophomore album July 17, 2015. By July 23, 2015 Everyday Jesus on Tyscot Music &Entertainment had obtained the number one position on the Billboard Christian/Gospel digital album sales chart.
Anthony Brown, the group's founder was completely humbled by the album's multiple-chart topping, cross-genres positions of his latest release. The album also charted number eleven on the Billboard Top 200 Chart. The single "Worth" is number one this week on Billboard's Hot Gospel Songs Chart.
Brown said of the hit single, "Worth is the sum of the entire project for me." According to Brown, he was inspired by God when he wrote the new music. "If there were ever a time that I really needed a confirmation that I heard from God, this album is that confirmation. Because I asked God what He wanted me to say…and these songs are a culmination of dreams I had over a two-week span. Every single night I dreamed these songs, and woke up and recorded them. This (album) is my God moment," said Brown.
Everyday Jesus was recorded live in Brown's hometown, Baltimore, MD at New Psalmist Baptist Church. The project's invited guests mirror a variety of musical styles. The guests include Maurette Brown Clark, Da Truth, Chrystal Rucker, Darrel Walls (from The Walls Group) and Gaye Arbuckle.
Anthony Brown & group therAPy is currently making key stops promoting Everyday Jesus. Look for them at T.D. Jakes' Mega-fest on August 23, 2105 and see them perform on BET's Sunday Best that night. Check your cable TV listings for times.
Click here to listen to my interview with Anthony Brown.
Link: www.AJBLive.com