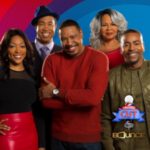 The laughs continue on Bounce TV's all-new episode of In The Cut, tonight, August 8 at 9p.m. ET/8p.m. CT
Tonight's episode focuses on the hilarious competition that ensues after an argument between Smitty (John Marshall Jones) and Mabel (Laura Hayes). They go up against one another by trading places on the job to prove who's the best at their jobs.
Meanwhile, Kenny (Ken Lawson) and Stella (G.G. Townson) come to a decision-making crossroads in their relationship. Charles Allen (Rise) and Lorenzo Eduardo (The Depths) will guest star.
Created by Bentley Kyle Evans, the hit comedy In The Cut centers on barbershop owner Jay "The Dream"
Weaver (Dorien Wilson) and Kenny (Ken Lawson), Jay's long lost son, as they work alongside each other at the shop and grow their new father-son relationship. In The Cut also stars, Kellita Smith as Cheryl, Jay's love interest, which he tries to balance while running a business and going through the process of getting to know the son he never knew he had.
If you want to escape your own drama-drama and laugh, laugh, laugh at someone else's problems, tune in to the all-new episode of In The Cut premiering tonight, August 8th at 9pm ET/8p.m. CT on Bounce TV.
To join the conversation on social media use the hashtag #InTheCut.